Ha'iku Stairs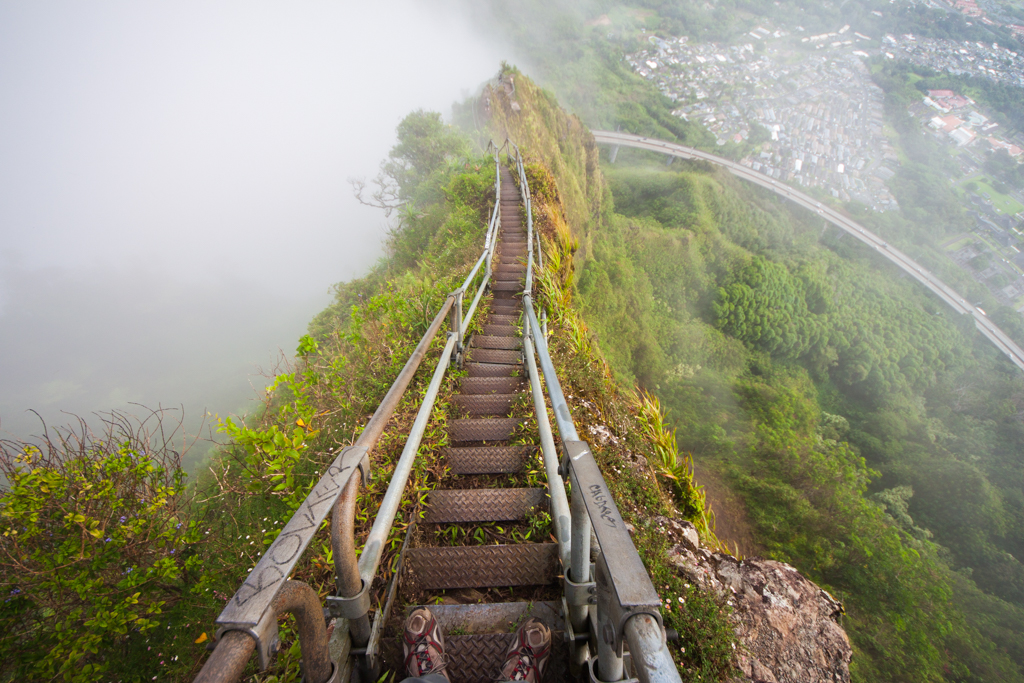 Last night, I had a print of this photo showcased as part of the fantastic Through the Lens show in Oakland. The 12″x18″ aluminum print from the show is still available for $200. All photos available in other sizes and print formats as well. Contact me for more details.
The Ha'iku Stairs, also known as The Stairway to Heaven, is definitely not a climb for the faint of heart. Dating back to World War II, this stairway was originally installed by the US Navy as part of a project to use the natural shape of the valley as a giant transmitter dish to send signals to fleets across the Pacific Ocean. These rusted narrow ship ladders remain today, climbing 3,922 steps from the valley floor to the top of the ridge some 2,300 feet above. At some points climbing nearly vertical the cliff faces and at other points crossing ridges with sheer dropoffs a mere inches beyond the railing, this climb is sure to bring out any latent fear of heights. However, the views from the top are guaranteed to make it all worthwhile.
Though the stairs themselves are on public land and were restored in 2003, nearby neighbors have blocked attempts to provide a solution for public access to the trails in the years since. This, along with lingering liability concerns, has caused the stairs to remain closed off to the public to this day. Until that day comes when the stairs are opened for public enjoyment, the only ways to access this amazing place are to either volunteer with the Friends of the Haiku Stairs for a service day, take your chances avoiding the guard and a potential trespassing citation to sneak onto the stairs illegally, or to take a long muddy hike along the Moanalua Ridge to reach the stairs from the back side.
It's a place like none other, and I would love nothing more than to see a resolution that opens the stairs for everyone to enjoy someday.